Outline Itinerary
1

Day 1


Arrive to TIA airport Kathmandu, transfer to hotel.
2

Day 2


Kathmandu sightseeing

A city guide from Peaceful trek will guide you for full day sightseeing around the Kathmandu valley including visits to Durbar Square and the temples of Swayambhunath, Bouddhanath, Guheshwari and Pashupatinath.

You will enjoy an entertaining Nepalese culture show. Overnight at Hotel.
3

Day 3


Fly to Lhasa

This spectacular flight, on a China Southwest Airlines Boeing 757, takes us right across the main Himalayan range and provides us with magnificent mountain views. You meet Tibetan guide after you land at Gonggar. Drive to Lhasa for about 2 hours. Overnight at hotel
4

Day 4


Lhasa sightseeing, hotel

These two full days you will visit the major temples and monasteries in Tibet, to include the beautiful Sera Monastery, Drepung Monastery and Potala Palace, former residence of the Dalai Lamas. Potala dominates the city. Next to it you will also visit the Jokhang Temple with scores of pilgrims prostrating themselves in worship outside. We will wander the local markets and make desirable shopping. Overnights at hotel.
5

Day 5


Start the mountain bike tour, camp (total cycle:85 kms)

Here starts your tans-Himalayan biking adventure. Our journey towards Everest starts with the Friendship Highway as it heads out across the plateau. You leave Lhasa cycling along the Tsangpo River to foot of the Kamba Pass (3700 m).

Overnight at camps at Kamba Pass.
6

Day 6


Kamba pass, camp (totalcycle:55kms)

It is the first mountain pass. A tar road with several switch backs climb uphill and reached summit then descend alongside of Lake Yamdruk. Set camp at far side of the lake. Overnight at camp.
7

Day 7


Karola pass (4750m), camp (total Cycle 54 km)

This day we leave the beautiful lake behind and head up to Karo Pass along the friendship highway. Set the camp at Karo Pass base for the night.
8

Day 8


Karo high pass (5010m) camp to Gyanste, hotel

You get up early to climb the high Karo Pass. The stretching glaciers surrounds your view. Your overnight accommodation will be arrange at Gyanste hotel.
9

Day 9


Gyanste - Shigaste, visit to Tashilomfu Monestrey (total Cycle 95km)

You will visit Gyantse Dzong and Gyantse Kumbum. The Dzong is a large gold-domed stupa with several small chapels. It is a fort dating from the 14th century and the Kumbum, which contains an impressive collection of Tibetan Buddhist murals. Then leave for Shigatse, Tibet's second largest city.
10

Day 10


Bike to Gyanchung monastery, camp (total Cycle: 75km)

This day, the track passes over two small passes and through several small Tibetan villages. Gyachung is an isolated Monastery and you past by it. Set your camp by its side.
11

Day 11


Bike across Chola pass (4550m) to Lhaste (3860m), hotel (total Cycle 95km)

You will arrive to Chola pass through charming valleys. Take lunch and move towards Lhatse. Rest the night at camp.
12

Day 12


Bike across (Gyachola) pass (5220m) to Shegar, hotel (total cycle 75km)

In the course, you will view the stunning canyon of the 5220m Gyatso-La. If weather supports, you will be rewarded by first view of Mount Everest. Pelbar, often referred as Shegar is a popular stopover for anyone heading to Everest region. Stay overnight at camp.
13

Day 13


Bike to (Geula) pass (5150m) and Before Rongbuk (4200m), camp[total Cycle 67km)

Leaving behind Shegar, the route divert off the main Lhasa-Kathmandu highway and head towards the Mt Everest. You can enjoy the most magnificent views of Everest and her surrounding peaks. Take lunch and get pleasure as you gaze over Makalu (8463m), Shishapangma (8012m), Cho Oyu (8210m), Lhotse (8516m), Everest (8850m) and several other breathtaking peaks. Rongbuk Valley is 20km uphill away. Camp for the night.
14

Day 14


Bike to Rongbuk monastery, Camp (total Cycle 43km)

The majestic view of Mount Everest appears before you as you passes through a bumpy road up through the Rongbuk valley. Set your camp beside the Monastery.
15

Day 15


Bike to Everest Base Camp, camp (total Cycle 8km)

You can get even nearer to Everest by taking a walk, cycling or hopping on a donkey and cart ride to Everest BC. It is just 8 km from camp.
16

Day 16


Bike to Tingri (4340m), camp [total Cycle 86 km)

Leave Rongbuk and head back the road and take short-cut over the canyon to get down to Tingri.
17

Day 17


Bike to Lalung pass (4990m), camp (total Cycle 81 km)

Today your ride takes gradual incline up to Lalung Pass where you enjoy the fantastic view of Shishapangma. Overnight at the camps between pass.
18

Day 18


Cross Thongla pass (5150m), camp (total Cycle 55 km)

This is your last up hill to Thangla Pass. You will be treated to overwhelming views of the Himalayan chain as you freewheel down.
19

Day 19


The ultimate downhill upto Zhangmu, hotel (total Cycle 136 km]

As you reach Nyalam, the scenery starts turning green, passing down by countless waterfalls along the side of road lined by pine trees then to the border between Nepal and Tibet, Zhangmu. This will be the final day in Tibet. Stay overnight at hotel.
20

Day 20


Cross Tibet-Nepal border and ride to Dhulikhel, hotel (total Cycle 93 km)

Ride along the Araniko Highway to Dhulikhel and stay overnight at Hotel.
21

Day 21


Bike to Bhaktapur & Kathmandu (total 35km)

This day you will ride to Kathmandu valley via Bhaktapur.
22

Day 22


Final Departure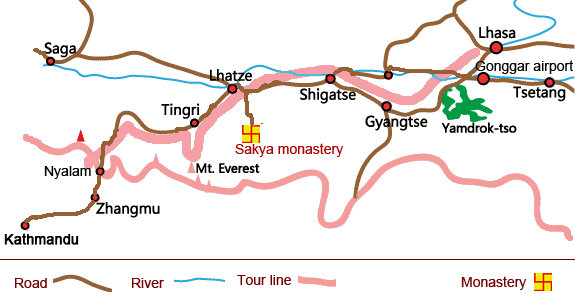 Description
In Kathmandu We meat the guide. From Guide briefing about the tours and our 18 days program with Tibet Culture and just prepare for Tibet tours we need some practice that's why we prepare in Kathmandu like bike test ride, biking equipment and everything.